Program Summary
Summary
 The International Joint Graduate Program in Resilience and Safety Studies (GP-RSS) is taught by leading experts in the field of disaster sciences and human security. We invite world renowned faculty from our affiliated partners worldwide, and through active student and faculty exchanges, we hope to provide our graduate students with a research platform for integrated academic specificity, international diversity, hands-on education in the field, and in academic collaboration.
 All our lectures are held in English, and we will be tracking student progress through two Qualifying Examinations (QEs). We strive for quality in our graduate school education.
 To ensure that our graduate students can focus full-time in their research and studies, we provide various forms of student support (e.g. – financial, travel funds, etc.).
 Successful Ph.D. students will be entitled to diplomas that include a note of their completion of the program, and where affiliate agreements exist between partnership schools, a certificate noting an international joint degree.
Educational Objectives
Our graduate program aims to provide an international educational platform to develop and cultivate the following research skills:
・Basic and applied knowledge in resilience and safety studies
・Transdisciplinary perspectives on resilience and safety studies
・Problem-based learning and international cooperation
・The ability to implement research at a global level, based on internationalism and first-hand resident research experiences abroad
Curriculum
The GP-RSS curriculum is designed for a transdisciplinary Ph.D. All lectures are instructed in English.
GP-RSS Curriculum Flowchart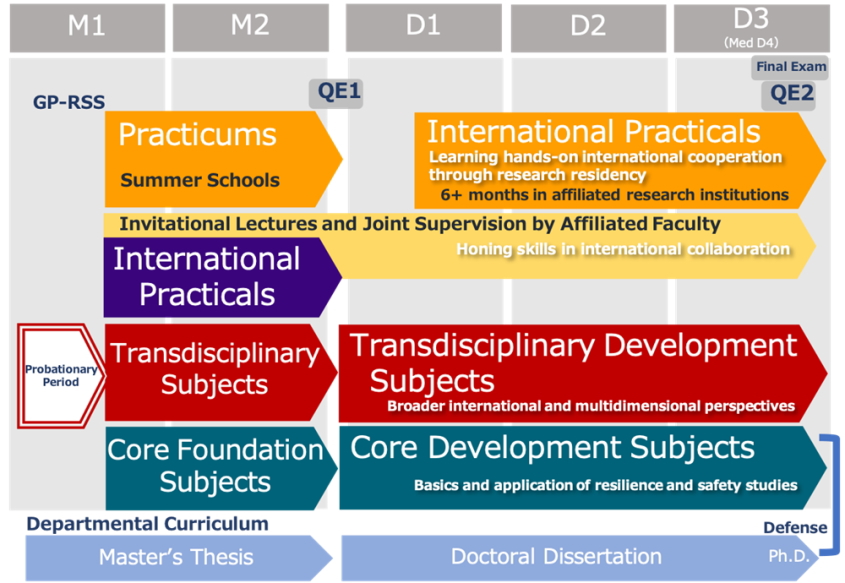 ※ The GP-RSS accepts masters students who declare into a Ph.D. (pre-Ph.D. candidacy)